Product Summary
Upcycled Cocoa Butter Soap is a birthday and Ramadan campaign for the month of April-May in collaboration with The Lost Food Project.
Soapan Santun will be saving these cocoa butter from going to landfill by turning them into soaps! We will be thrilled if you could hop on this campaign with us this month and the next!
These cocoa butter are "upcycled" because they are just past their expiration date.
Everything has an expiration date, even handmade soaps, but if stored properly, handmade soaps can go beyond their expiration date and still work the same! Big companies have a policy to not sell expired products to other cosmetic or food & beverage companies, and because our supplier has stored the cocoa butter really well, the butter is still in pristine condition and smells divine!
In fact, cocoa butter doesn't really expire because they don't contain any water to support bacterial growth, so they just turn stale and flavorless if not stored properly.
We have been testing out the soaps on ourselves for months and our skin has never been happier!
These soaps contain 60% cocoa butter, with the rest being high-quality coconut oil, extra virgin olive oil, palm oil, and castor oil for the extra bubbles!
20% of our Upcycled Cocoa Butter Soap sale will go to The Lost Food Project to support their cause. The funds will be channeled into operations (maintenance of warehouse, manpower) and logistics. Funding will end on 23rd May 2023. (Check our announcement page to see how much we donated)
Ramadan and Birthday Discount
Get RM3 off per box when you purchase 5 soaps in 1 box, the offer will only be available until the 23rd of May 2023 while stocks last.
Ramadan Packaging
In conjunction with the month of Ramadan, we will be offering limited-edition Ramadan gift packaging of custard and green cotton strings, custard crepe paper, and labels with crescent moon and wishes. There will also be a handwritten note, so do let us know if you'd like to leave a message if you're buying them as a gift.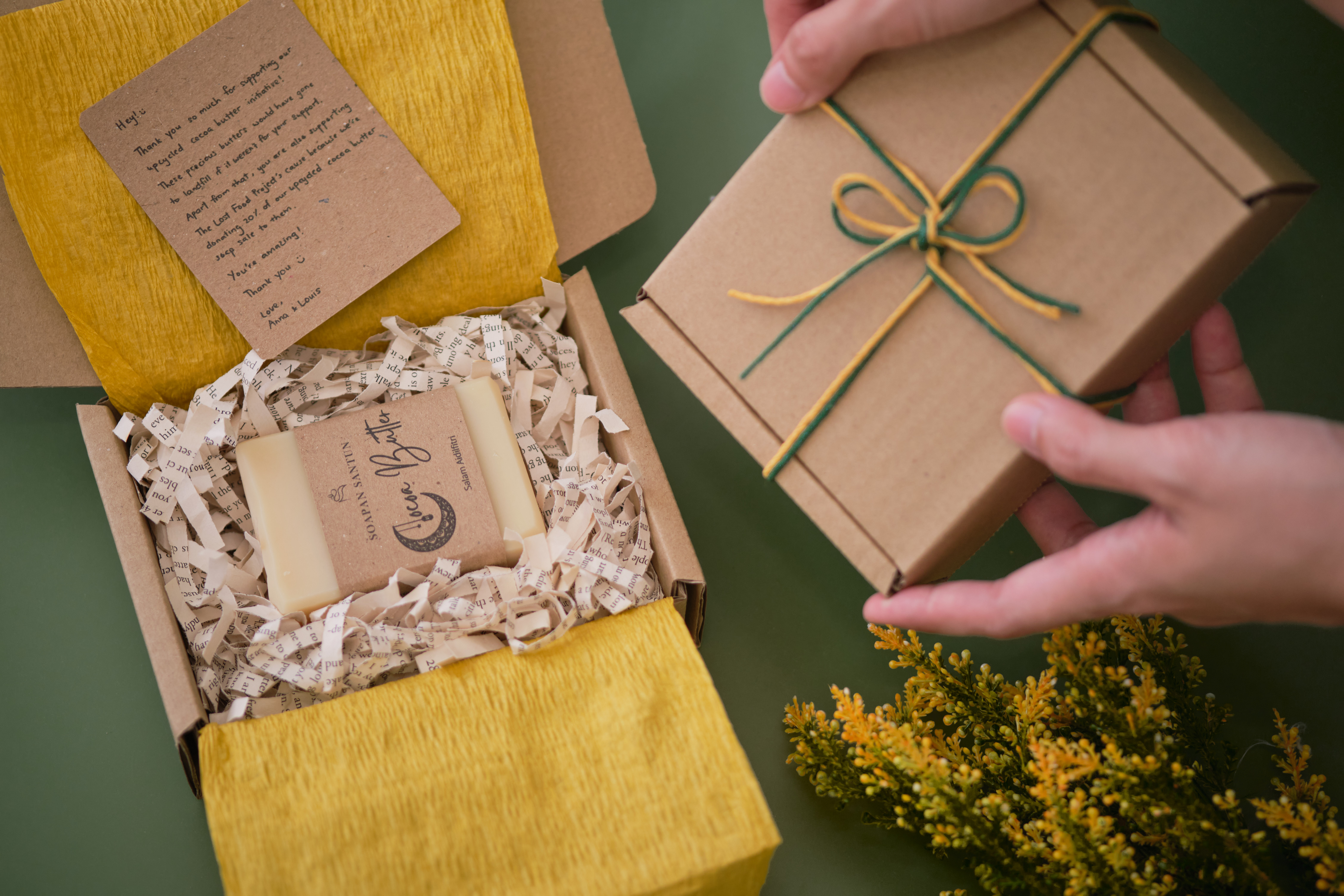 Product Weight
Each soap bar weighs around 120g +/-. Please allow a 5g difference in weight.
Ingredients
Cocoa Butter, Extra Virgin Olive Oil, Coconut Oil, Palm Oil, Castor Oil, Distilled Water, Sodium Hydroxide
How to Care for Your Soap?
To help the soap last longer, store it in a cool, dry area till ready to use. Use a soap net or a drain dish to hold your soap every time after showering. Keep it dry between uses.
Gentle Reminder:
Do check the ingredients before using as some may be sensitive to certain types of ingredients.
These are all handmade natural soap bars and no two are the same. You may receive darker/lighter colors than what you see in the photographs.
Disclaimer:
Results may vary by person. While many of the herbs, essential oils, and other natural ingredients in our soaps are believed to have beneficial and healing properties, they should not be used to self-medicate or treat any form of physical or mental disease or health problem. We do not recommend the use of these products as a substitute for medical care. When in doubt, always consult your doctor or dermatologist.
Corporate Gift / Wedding Favors are available upon request.